Welcome to the first Home Life linky of 2016. This project is something I dabbled with last year and thought might be more fun if I did it alongside other people this year. I was hoping for one or two people to join me for this first one and I'm thrilled that I have already seen more than that sharing images on Twitter over the last couple of days. I am genuinely very excited to see what everyone has photographed.
I was asked if I had an idea how the posts should be formatted and I don't. I think the photos are the common theme and some of us may want to do a small amount or a large amount of words beside them to explain them. I'm pretty sure that one of you will come up with a far better way of doing it than me and I reserve the right to take inspiration from it and to chop and change how I present my pictures.
I took my photos on Saturday and I thought a lot about how subtle things I captured will change over the next year. The friends who came for lunch are house-hunting and may move out of the local area. Theo's nightly routine of tea at his little yellow table will probably be disrupted when Alice starts eating solids and pulling herself up on things and the quilt on the back of the sofa is something I was finishing the hand sewing on and is now ready to hand over to its new owner.
As Ferris Bueller once said "Life moves pretty fast. If you don't stop and look around for a while, you could miss it."
7:57am – Weekend lie ins are not quite as long as they used to be, but Alice is making a pretty good effort to fit in with all the sleep lovers in this house.
8:34am – The blue light of a winter's morning and the last day with decorations up in the house
9:29 – Waiting to have his shoes put on for the dog walk. He sits on stair number four, because he is four. Can't argue with that logic
10:10 – We're out of bread. Time to make a couple more loaves!
11:10 – He plays so well on his own… most of the time!
11:24 – Sneaky behind the fridge photo. I married a man who loves cooking, but isn't always keen on being the subject of photos
12:28 – Waiting for our friends to arrive for lunch…
12:30 – …and setting up a Thomas game that he's hoping they'll play with him
3:14pm – I reclaimed this room over Christmas (another story for another post) and it's now one of my favourite bits of the house
3:57pm – One of our imperfect canine duo looking for some affection
5:14pm – Friends have left so the decorations are coming down
7:17pm – Theo's tea time, a little later than normal. We'll need to get back into the school routine on Monday
So, let me see what you guys have been up to!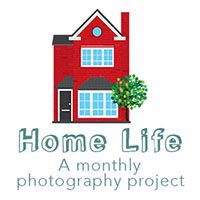 Home Life Photography Project
The Home Life photography project primarily exists as a photographic challenge rather than a linky, so please don't link up posts that don't fit the brief. If you'd like to join please add your blog posts showing photos that document your family routine over one day to the linky below and pop over to visit and comment on a couple of the other blogs. The hashtag for Twitter and Instagram is #homelifeproject feel free to use it. If you'd like to find out more about how this photo project works and what is an isn't suitable, all the info is on this page.