Welcome to another month of the Home Life Project. This weekend I was home alone again (two out of seven HLPs so far this year!) which is always hard work, but despite moments where I was pulling my hair out, I found that after the kids had gone to bed, looking back on the photos allowed me to savour the good bits of the day, away from the background noise.
Theo did his best to help me by taking some photos with me in. He is really rather good at framing and composition, but holding my heavy SLR does mean he struggles (understandably) with camera shake, so a lot of photos which had promise had to binned when I got them off the camera, leaving just one with me in.
I'm struck as I always am that without the excuse of shooting for this monthly project, none of these photos would have been taken and this day (however unremarkable or difficult) would have slipped into obscurity…
By the way, did you spot the Snoopy Calculator in the photos? A technological relic from my childhood. It only has maths games on it and is still running beautifully despite being 30 years old – Bet we won't be able to say the same for iPads in 30 years!
So what did everyone else get up to this weekend?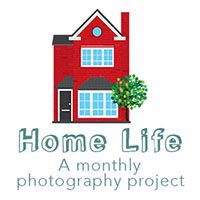 Please share your Home Life Project posts below and on social media with the hashtag #homelifeproject