Home Life Project – February
This month we found ourselves spending our Home Life Project Sunday doing very similar things to last month. Once again we headed for a favourite spot for a winter walk, West Wittering beach, which means that yes, the first photo this month looks a whole lot like a photo from last month… BUT in the few weeks that have passed since I took the photos in January, there has been a change, this time Alice was exploring the beach on her own two feet and only retreated to the backpack when the wind and cold started to get to her.
At the beach I tried looking for reflections in the puddles on the sand, but ended up finding better ones later and I got the elusive double exposure look I was hoping for too. In fact once I trained my eye, I couldn't stop seeing reflections, everywhere. Sadly sunshine was a little more elusive, but you can't have everything.
While we are at the beach, we took part in the #Take3ForTheSea initiative,  collecting three pieces of rubbish from the beach to take home, which is why Theo's clasping that broken spade in one of the photos. Rubbish is also sadly one of those things you can't stop seeing once you start looking…
Looking forward to seeing your posts and don't forget to share your images on social media too with the hashtag #homelifeproject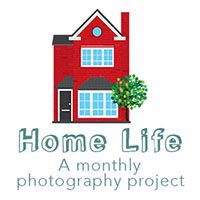 If you liked this, you might also like…