At lunchtime yesterday I paused my photo taking to look back on the pictures from the Home Life Project a year ago and I was reminded that it was muddy, the weather was miserable and everyone was itching for spring to start. Does that sound at all familiar? There was one picture in particular where Alice's buggy was parked in a sea of mud and I remember when I took it thinking, I just can't deal with this any more. By April though we were barefoot in the garden and hunting Easter eggs at a family lunch. These next few weeks of early spring will make a lot of difference.
So if finding inspiration this weekend was a struggle, you are not alone. I took my photos yesterday and the weather was beastly. We delayed our morning dog walk by an hour hoping for a forecast break in the weather, but got caught in a downpour anyway! Alice faired better than most of us, as after several dog walks where she has returned caked in mud, we ordered her a splashsuit and it's brilliant. The water and mud just falls off it and despite these photos she was dry underneath it all when we got back to the car.
When Theo and Jim disappeared to the driving range in the afternoon I got the tripod out to get some photos and Alice made her first photographic contribution to this project, can you spot the picture where she fired the remote?!
As always I'm looking forward to seeing what you captured. If you share your posts and photos on social media don't forget to tag them with #homelifeproject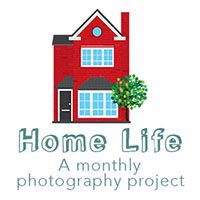 If you liked this, you might also like… Save