Last month I made a comment about how the weather had improved dramatically between March and April's Home Life Project last year and low and behold, this year it has also delivered! We had a fantastic day on Sunday, only slightly marred by the fact I was suffering a bit from all the rapeseed that is in flower around our house. I have never had hayfever before, but for some reason this year it's really hit me with a combination of cough, sneezing and tickly throat… but it does look stunning, so I hope I can cope with it for the next couple of months!
We spent most of the day outside, with a barbecue and some gardening which the kids also got involved with. By the time they went to bed, not only were they exhausted, but we were too. Lots of fresh air and exercise is always a winning combination fora  good nights sleep!
As far at the creative challenge for this month, I failed to mention when I wrote the post on Friday that I'd actually been inspired to select it after watching a youtube video about how foreground framing is used in filming and so it's been interesting not only using it to compose photos, but also seeing it being used a lot on tv this weekend.
I hope you also had good weather this weekend and I look forward to seeing what you shot. If you share your posts and photos on social media don't forget to tag them with #homelifeproject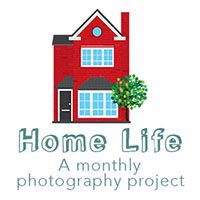 If you liked this, you might also like… Save
Save
Save
Save